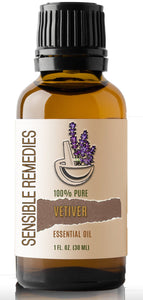 This exotic oil dates back hundreds of years from all around the world. It's scent is described as earthy, smoky, smoky, and herbaceous. It is most similar to patchouli oil. This oil is known in Sri Lanka as the tranquility oil due to its relaxing and mind clearing affects. Some people use vetiver oil to treat sleep problems. It can be used in an oil diffuser or applied topically before you go to sleep. 
This powerful oil also has anti-fungal and anti-bacterial properties, so it will help eliminate skin fungus and reduce acne, if used properly. A dermatologist can tell you how and where to apply it for optimal results. Typically, it should be diluted with a carrier oil and tested to avoid skin irritation.  
Steam Distilled • Consistency: Thick • Aroma: Sweet, Woody and Smoky
Bends well with: Lavender, ginger, lemongrass, grapefruit, lemon, bergamot, or black pepper oils.