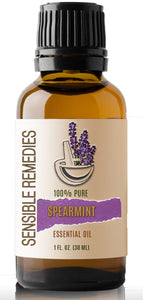 Spearmint's scent is minty, and slightly fruity. It is similar to peppermint but has a considerably softer aroma. A rich antioxidant, spearmint helps support the respiratory and nervous systems and may help open and release emotional blocks leading to a sense of balance and well-being. But that's not all it's good for; This essential oil is used to alleviate digestive discomfort, as well as for menstrual problems and nausea.
Because of its menthol content, spearmint oil is often used in aromatherapy to help treat fatigue, headaches, migraines, nervousness, and even digestive problems. On top of that, just a couple drops in your bath oil can induce relaxation and cool you off in hot summer months as this oil reduces body temperature.    
Steam Distilled • Consistency: Thin • Aroma: Warm & Herbaceous
Blends well with: Basil, eucalyptus, lavender, rosemary and jasmine.