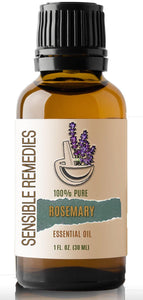 Rosemary oil is the quintessential herbal smell. It has been used in medicine for centuries due to its pain relieving properties leading doctors now to try to understand this spices extractions health benefits. This essential oil can be used in a diffuser or inhaled directly. Those who use this oil aromatically while stressed out or anxious may notice their breathing and heart rate begin to slowly regulate themselves. That's because this wonderful oil is a stress reliever.
But that's not where the benefits end; Rosemary is also fantastic for strengthening memories as the strong scent helps sharpen senses which increases concentration. It also promotes robust hair growth and has even shown signs of stopping or slowing hair loss. It's an invigorating treat for the scalp and the hair follicles. It awakens them in the same way that it helps wake up your mind. Rosemary is also good for your skin, it is soothing and refreshing. It helps improve circulation throughout the body, which can make your skin glow with life. Look for lotions, cleansers, creams, or other products that include rosemary oil in the ingredient list.  
Steam Distilled • Consistency: Thin • Aroma: Herbal & Refreshing
Blends well with: Basil, bergamot, black pepper, cedarwood, cinnamon, citronella, clary sage, eucalyptus, frankincense, geranium, grapefruit, lavender, lemon, litsea cubeba, mandarin, marjoram, oregano, peppermint, petitgrain, pine, ravensara, tea tree and thyme.