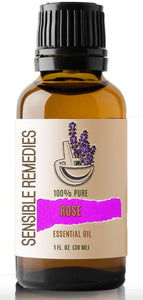 The oil of this famous flower is perhaps the most familiar to you. It is extracted straight from the beautiful flower's petals. It promotes immediate relaxation of stress, anxiety, and other grievances when inhaled. Simply place a few drops into a diffuser and enjoy the lovely, nostalgic scent. It is a romantic scent, both warm and inviting, yet crisp and luxurious. It can be worn as a perfume if you apply it with a carrier oil, like almond or olive oil, and the delicious scent is guaranteed to make everyone want to be around you.   
Another thing about this essential oil is it has antibacterial properties and may be able to help control conditions like acne. It can help to lessen the appearance of blemishes on your face, back, and chest. It also helps to open your pores and make them more receptive to other creams or treatment products. This oil also moisturizes the scalp and keeps your hair shiny and light. Remember that a little goes a long way! Rose oil should not be used for cooking or internal consumption. 
Blends well with: Benzoin, bergamot, chamomile, clary sage, fennel, geranium, ginger, helichrysum, jasmine, neroli, patchouli, petitgrain, sandalwood and vetiver oils.