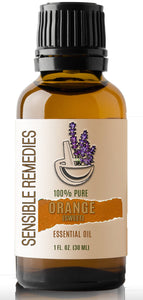 Orange oil is a versatile product that can help with problems ranging from skincare to cleaning supply. Its vitamin rich compound helps promote the development of collagen, nourishes dry skin and helps treat and prevent acne. However, one should be careful to avoid direct sunlight with the oil's residue on your skin as the oil can be photo toxic.

The great thing about this oil is it is both romantic and electrifying, making it the perfect midday pick me up due to its fresh revitalizing scent that may boost your mood. It is also good for morning showers as it can help wake you up and make you feel refreshed and ready for the day. It is also quite good for the skin. It improves circulation, which can help reduce inflammation on your face and body as well as promote elasticity. Orange oil is believed to help stimulate collagen production in the skin and may be helpful as an anti-aging skin treatment. Using orange oil in your beauty routine will awaken the senses and keep you feeling confident and fresh.   
Try adding a few drops of this oil to a carrier oil, such as olive oil or coconut oil. Test the mixture on a small patch of skin first, in case of irritation. If your skin reacts positively, apply it to any problem areas.  
Cold-Pressed • Consistency: Thin - Medium • Aroma: Light, Fresh & Citrus
This oil blends well with spice oils (eg. cinnamon, nutmeg, clove) lavender,  neroli, lemon, clary sage and myrrh.