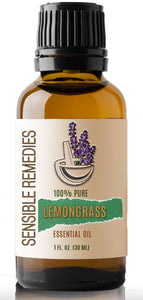 Lemongrass essential oil has a citric, herbal smell. If you suffer from stress, sore muscles, or other types of tension and anxiety, this can help you relax. You can sniff the oil directly or use it in an essential oil diffuser. The interesting thing about this oil is it has a dual purpose: it can soothe but also energize. Because of the lemony, citrus notes, this aroma can help you wake up and focus your thoughts.
This oils uses are not limited to aromatherapy, though. It can help heal various skin conditions. It works as a toner to remove excess oil and dirt from your skins pores. It only takes a few drops to make a skin tonic. This will help eliminate acne and any type of skin fungus. Like citronella and tea tree oil, lemongrass essential oil is an effective, natural bug repellent. You can mix a few drops with a carrier oil and apply it to your skin or create a lemongrass bug spray. As always, test your skin first to avoid an allergic reaction.   
Steam Distilled • Consistency: Thin • Aroma: Fresh & Citrusy 
Blends well with: Basil, bergamot, black pepper, cedarwood, clary sage, coriander, cypress, fennel, geranium, ginger, grapefruit, lavender, lemon, marjoram, orange, palmarosa, patchouli, rosemary, tea tree, thyme, vetiver and ylang ylang oil.