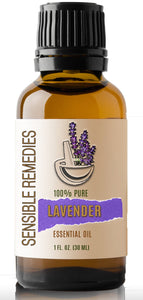 Lavender oil is one of the oldest essential oils known to man. It has origins all across the Middle East and Africa. In fact, it has biblical origins as well. It is also one of the most versatile oils out there. For centuries it has been used in aromatherapy to offer ease of stress, insomnia and inflamed skin.
This delightful oil has a very exquisite, pronounced floral scent that encourages relaxation and soothes an anxious mind. You can use it without worry of irritation as it has skin supportive properties that help inflammation due to bug bites or acne. This lovely floral also helps speed the healing process of minor cuts and burns as well.
Steam Distilled • Consistency: Thin • Aroma: Light, Floral & Sweet
Our pure lavender oil pairs well with most oils especially citrus oils, floral oils, cedarwood, clove, clary sage, pine, geranium, vetiver, and patchouli.