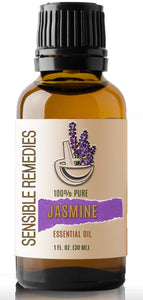 Jasmine has a long history in perfumery dating back to Cleopatra and Louis XVI. It has a scent that is feminine, sensual, and sophisticated.  You can make your own jasmine perfume with a few drops of this oil mixed with a carrier oil. Dab some on your wrists and neck and enjoy its invigorating smell all day long.  
This oil is ideal for use in aromatherapy. Its floral and sweet with soothing properties to ease stress. It can help soothe and moisturize irritated or dry skin. However, it must be diluted with a carrier oil before use. Use a small amount of your jasmine-carrier mixture on your face or other dry areas and it will improve the bloods circulation to your skin which encourages healing and elimination of toxins from the body. It works against humidity to eliminate any frizzy or unruly hair as well, especially in tropical or rainy climates. Apply a few drops of this oil to a brush and comb it through your scalp for hair that is luscious and smooth.
Steam Distilled • Consistency: Medium Thickness • Aroma: Floral & Sweet
Blends well with: Orange, lemon, lavender, rosemary, sandalwood, rose, and frankincense oils.