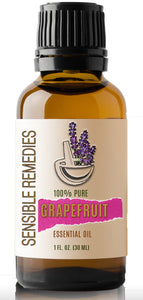 Grapefruit essential oil has very strong antiseptic and antibacterial properties. Like other citrus oils, this one is slightly acidic. It can be used to kill harmful bacteria in your home. It can also be added to household surface cleaners to disinfect counters, sinks, and more. It will leave your kitchen or bathroom smelling wonderful!
This oil has some incredible aromatherapy benefits. It has a very distinct crisp, clean smell. It is uplifting and positive for your mood and it can also help boost concentration and memory. Try smelling this oil when you need a bit of clarity or add a few drops to a diffuser and enjoy the invigorating scent. This oil is acidic enough that it helps cleanse your face, body, and hair of dead cells and encourages healthy regeneration.
Cold-Pressed • Consistency: Thin • Aroma: Sweet & Citrus
Blends well with spicy, herbal, and other citrus scents, like lemon, bergamot, lavender, ginger, clove, black pepper, cardamom, peppermint, and basil essential oils.