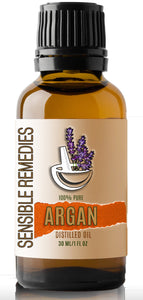 Sourced from the farms in Morocco, argan oil comes from the argan tree kernels and contains plenty of beauty assets you can incorporate into your daily routine.
Consisting of fatty acids and numerous beneficial nutrients, argan oil is famously used for hair, skin, and nails. Its antioxidant and anti-inflammatory properties are amazing for skin applications during breakouts and moments of irritation. This oil contains natural vitamin E which makes it a beautiful moisturizing agent to repair hair damage and maintain a healthy, glossy look.
Aside from being an effective moisturizer, argan acts as a powerful anti-aging agent that is effective alone or when added to your current beauty regiment. This powerful oil can even work wonders in reducing or preventing stretch marks.
* Always be sure to dilute pure oils with a carrier oil before applying to skin. Consult with a doctor if you are pregnant or want to apply the oil on a child. If you see any adverse effects, remove the oil from the skin and call your doctor.
Cold-Pressed • Consistency: Thick • Aroma: Nutty
Blends well with rose, jasmine, neroli and cypress oils.