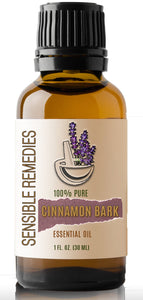 Cinnamon bark (Cinnamomum) essential oil is a rather striking scent when used in aromatherapy. It has a sweet and spicy fragrance that may help boost brain function, memory retention, and alleviate nerves. The oil stimulates blood circulation and relaxation throughout the body. It may also promote circulation in the scalp for hair growth that is more resistant to shedding or breakage. It may be diffused to get rid of cold headaches or act as an aphrodisiac.
Cinnamon bark oil contains more Cinnamaldehyde than cinnamon leaf oil which results in its more powerful scent. It is also effective in repelling mosquitoes and ants when diffused and sprayed at targeted areas. With its strong antimicrobial properties, cinnamon bark oil works as a non-toxic natural disinfectant. Use it to clean your toilets, refrigerator, kitchen counters, and other surfaces such as doorknobs, microwaves, and sneakers. You can even use it to clean and disinfect your chopping boards.
Steam Distilled • Consistency: Medium Thickness • Aroma: Warmly Sweet & Spicy
Blends well with frankincense, black pepper, clove, tea-tree, and ylang-ylang.
* Always be sure to dilute pure oils with a carrier oil before applying to skin. Consult with a doctor if you are pregnant or want to apply the oil on a child. If you see any adverse effects, promptly remove the oil from the skin and call your doctor.