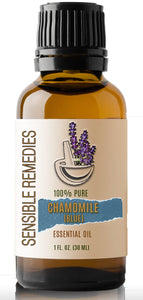 Blue (German) chamomile is widely known for its health and calming properties. The rich blue color stems from the high content of azulene, the active organic compound of chamomile. This exotic oil is effective in calming down annoyance, anger, and irritation, particularly in small children, and can reduce blood pressure and curb the swelling of blood vessels as well. 
Blue Chamomile oil has strong analgesic, antiseptic, and antibiotic properties. When diluted with a carrier oil, it may promote joint functions, relieve arthritis, and menstrual pains, as well as protects wounds, cuts, and bruises from becoming infected. This oil is also very popular in cosmetics since it diminishes the scars, marks, and spots that may cover the skin.
Steam Distilled • Consistency: Thin • Aroma: Crisp, Sweet & Minty
Blends well with clary sage, ylang-ylang, patchouli, jasmine, lavender, and geranium.
* Always be sure to dilute pure oils with a carrier oil before applying to skin. Consult with a doctor if you are pregnant or want to apply the oil on a child. If you see any adverse effects, promptly remove the oil from the skin and call your doctor.