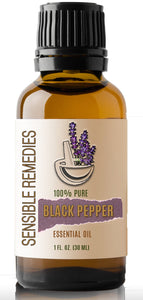 Black pepper is one of the most well known and oldest spices. Dating back to the Greeks, Romans, and Egyptians, it is still best known for its ability to spice up meals and enhance the taste of foods, Black Pepper essential oil is a multi-purpose oil that has a variety of uses and benefits. It is known for its antioxidant activity and its positive effect on immunity.
One to two drops go a long way with this oil. When mixed with a carrier oil and used for cooking, this essential oil can reduce aches, promote blood circulation and digestion, and detoxifies the body by increasing urine and sweat secretions. Note that when used topically, it should be applied with caution due to its powerful warming sensation.
Steam Distilled • Consistency: Thin • Aroma: Warmly, Spicy & Fresh
Blends well with: sage, clove, frankincense, geranium, lavender, juniper, marjoram, myrrh, orange, nutmeg, rosemary, sage, sandalwood, tea tree, vetiver, and ylang ylang oils.
* Always be sure to dilute pure oils with a carrier oil before applying to skin. Consult with a doctor if you are pregnant or want to apply the oil on a child. If you see any adverse effects, remove the oil from the skin and call your doctor.