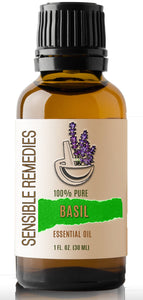 Basil (sweet) essential oil is praised for its sweet yet minty fragrance. It's used in soaps, perfumes, and dental products as a fragrance additive. This oil also can relieve stress and is popular in aromatherapy due to its alleviating effect on the mind; simply add a few drops into your diffuser and allow it to work. Use it to treat a cough or provide relief from colds and flu-like symptoms.
This basil oil has carminative properties that aid with flatulence, cramps, and other digestive problems. Place a few drops in your cooking oil for a hint of basil as well as the health properties that go along with it. The oil can even aid as an insect repellent against flies and mosquitoes. It may reduce itching from bites as well.
Steam Distilled • Consistency: Thin • Aroma: Herbal & Sweet

Blends well with: Bergamot, Lavender, Cypress, Geranium, Helichrysum, Peppermint, Lemongrass, Marjoram, Cedarwood, Clary Sage, Ginger, Grapefruit and Lemon.
* Always be sure to dilute pure oils with a carrier oil before applying to skin and consult with a doctor if you are pregnant or want to apply the oil on a child. If you see any adverse effects, remove the oil from the skin and call your doctor.