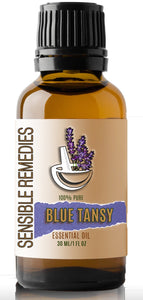 Cultivated from wild yellow flowers and sourced exclusively from Morocco, Blue Tansy (Tanacetum annuum) is a rare and luxurious oil that has fantastic uses. This rich blue oil comes from a seasonal plant that needs optimal conditions to grow, producing limited amounts of this unique oil world-wide.
Most popularly, this oil can be found in high-end skin care and luxury beauty products and is loved for its anti-inflammatory property that heals skin and reveals a gorgeous, clear complexion. Part of the chamomile family, the cooling and soothing abilities of this oil is fantastic for dry skin, eczema, rosacea, acne breakouts, and even burns. Change your skincare routine with one simple step: mix a few drops of this oil with a carrier oil and apply it directly to the skin for noticeable results.
When used in aromatherapy, its hypnotizing warm fragrance is known to empower and boost self-esteem. This oil has also been used as a respiratory aid when combating the cold and flu. Its floral scent is perfect for DIY soaps, cosmetics, and projects around the house. Please talk to your doctor before use as blue tansy may have possible drug interactions. For external use only. Keep out of the reach of children and pets.
Steam Distilled • Consistency: Medium Thickness • Aroma: Warmly Sweet & Spicy
Blends well with clary sage, ylang ylang, rose, spearmint, lavender, and geranium.
* Always be sure to dilute pure oils with a carrier oil before applying to skin. Consult with a doctor if you are pregnant or want to apply the oil on a child. If you see any adverse effects, remove the oil from the skin and call your doctor. Do not ingest.