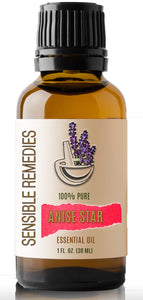 Anise star essential oil (Illicium verum) is steam distilled and sourced from India. This oil has incredible aromatherapy properties that provide herbal healing with digestive problems, bad breath, muscle and joint aches, and even toothaches.
This sweet-smelling oil has a very specific, delightful smell that is most closely associated with black licorice. It has incredible carminative and aperient properties and therefore aids various digestion-related issues such as nausea, stomach cramps, constipation, and diarrhea.
The oil also has antiseptic properties and is known to speed up the healing process of wounds and bruises while simultaneously building a protective layer over the wound to protect against infections. 
Steam Distilled • Consistency: Thin • Aroma: Warmly Sweet & Spicy Licorice-Like
Blends well with black pepper, thyme, ginger, lavender, rose, orange, bergamot and citrus oils.
* Always be sure to dilute pure oils with a carrier oil before applying to skin. Consult with a doctor if you are pregnant or want to apply the oil on a child. If you see any adverse effects, remove the oil from the skin and call your doctor.